Hiking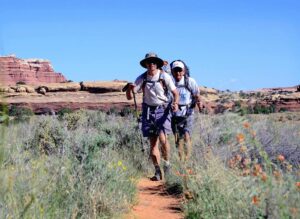 The Needles District offers more than 60 miles of interconnecting trails as challenging as they are rewarding. Families will love the four short, self-guided trails along the paved scenic drive that highlight different aspects of the park's natural and cultural history. Needles also has longer, more strenuous trails with a backcountry experience with challenges along the way, such as steep passes with drop-offs, narrow spots, or ladders.
Important Tips:
Trails have little shade, so during warm weather, avoid hiking during the hottest hours of the day (10am – 6pm).
Always carry and drink plenty of water.