Plan Your Visit
Arches National Park
Visiting Arches National Park
Plan on spending at least a few hours in Arches, exploring the paved, 18-mile (29 km) scenic drive and several of the viewpoints and short trails. If time permits, longer hikes lead to many spectacular rock formations.
From April 1 to October 31, 2023, Arches will implement a pilot timed entry system. You will need a timed entry ticket in order to enter the park during these dates. You can reserve your ticket here.
You will be returning and exiting the park on the same road. Visit our Things to See and Do page to discover some of the fantastic sights and activities that can be part of your visit.You can also camp at The Devils Garden Campground, just 18 miles from the park entrance. This is a beautiful campground where sites are nestled among slickrock outcroppings.
Arches National Park is open 24 hours a day, year-round.
Note: the entrance road can sometimes close in winter for short periods after winter storms.
Visitor Center Hours
Arches Visitor Center is open daily. Hours vary by season.
(Please check the park's Operating Hours & Seasons page at NPS.gov for current information.)
The visitor center is closed December 25th.
When is the Best Time to Visit?
The park is open 24 hours/day, 365 days/year.
However, the visitor center hours vary by season. Call (435) 719-2299 for current information.
To avoid lines at the entrance gates and crowding in parking lots, plan on visiting the park before 8:00 am. or after 3:00 pm.
See how busy it is now on the live Arches entrance station webcam at NPS.gov.
When is Arches busiest?
From March through October, visitation at Arches is high. These holidays and weekends are especially busy:
The weeks surrounding Easter (date varies, in 2020: April 5-19)
Memorial Day (last Monday in May)
Labor Day (first Monday in September)
Utah Education Association break (dates vary, usually third weekend in October)
Entrance Fees
Fees can be paid at the park entrance station or online at Pay.gov. Admission to Arches National Park is good for seven days.
Private Vehicle Fee – $30.00
(15 passengers max)
Motorcycle Fee – $25.00
Per Person (bicyclists, hikers, and pedestrians) – $15.00
Youth 15 and under are admitted free.
Timed Entry
From April 1 to October 31, 2023, visitors are required to have a timed entry ticket to enter the park. Ticketed entry will run from 7am to 4pm daily.
Passes
You can purchase passes at park entrance stations or visitor centers.
Southeast Utah Parks Pass
Annual – $55.00
Valid for one year through the month of purchase to Arches and Canyonlands national parks and Natural Bridges national monument. Admits one private, non-commercial vehicle or the pass holder and three persons (16 years and older) when per-person fees are charged.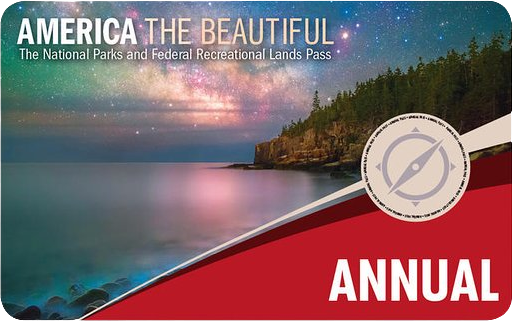 America the Beautiful
The National Parks and Federal Recreational Lands Pass Series
Your ticket to more than 2,000 federal recreation sites across the United States.
These passes cover:
Entrance fees at national parks and national wildlife refuges
Standard amenity fees (day-use fees) at national forests and grasslands and at lands managed by the Bureau of Land Management, Bureau of Reclamation, and US Army Corps of Engineers
Annual Pass – $80
Current U.S. Military Annual Pass – Free
4th Grade Pass for U.S. students in the 4th grade – Free
Senior Pass – $80 (lifetime), $20 (annual)
Your purchases and donations support education and research on the public lands of Southeastern Utah!