Spectacular Cultural and Natural Treasures
Bears Ears National Monument is home to some of Utah's most outstanding cultural, recreational and natural resources.
Plan Your Visit
Opportunities to experience these resources abound. The area is famous for its rock art sites, ancient structures, rock climbing areas, solitude and outstanding views for photography.
There is no visitor center within the Bears Ears National Monument. Visit or contact area information centers and agencies for information (see list below).
No fuel, water, food, and other services are available within the monument. Supplies are available in nearby communities: Monticello, Blanding, Mexican Hat or Bluff, Utah.
No fees are required to enter. However, fees are charged for permits required for day and overnight trips in these Cedar Mesa area canyons and their tributaries: Grand Gulch, Slickhorn Canyon, Fish Canyon, Owl Canyon, North and South Forks of Mule Canyon, Road Canyon, and Lime Creek.
The upper elevations of the Shash Jaa Unit near the Bears Ears formation are managed by the Forest Service and are usually covered by snow from November – April.
Download the official Bears Ears National Monument map (.pdf)
Things to Know
These are remote areas so come prepared by carrying lots of water and supplies.
Don't rely on your cell phone. Cell coverage outside established towns may be poor or unavailable.
GPS navigation may not be reliable. Carry a map of the area with you.
Many of the unpaved roads in the area require 4WD with high clearance. All vehicles must stay on designated roads.
Remember to #RespectandProtect our natural, historical, and cultural resources.
The Bears Ears National Monument is jointly managed by: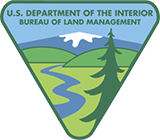 Bureau of Land Management (BLM) Monticello Field Office
365 North Main | Monticello, UT
435-259-2100

U.S. Forest Service, Monticello Ranger District
432 E Center Street | Monticello, UT
435-587-2041 or 435-259-7155
The Bears Ears Area
Bears Ears National Monument is composed of two separate units:
The greater Bears Ears Area also encompasses: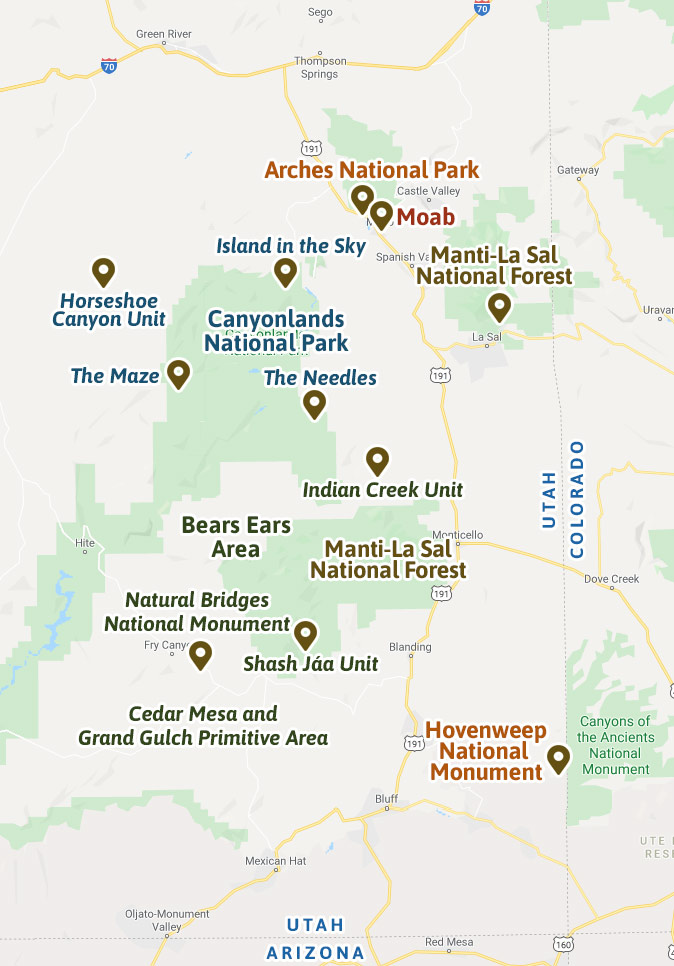 Bears Ears National Monument FAQs
Can I camp in the monument?
You find a list of campgrounds for each unit on the Indian Creek Unit and Shash Jáa Unit web pages.
Dispersed car camping is allowed (except where prohibited) in well-established sites within 150 feet of designated routes. Please do not create new campsites. The use of portable toilet systems is encouraged. Please pack out all trash.
Overnight backpacking in Cedar Mesa canyons requires a permit. Visit the Cedar Mesa Permit web page for information.
Are fires allowed when camping in the monument?
Fire rules differ between BLM and Forest Service lands and can change based on the weather and rainfall. Please check with the BLM Monticello Field Office at 435-259-2100 or the U.S. Forest Service, Monticello Ranger District at 435-587-2041 or 435-259-7155 for current information.
When fires are allowed, bring your own firepan and firewood if you can or use existing fire rings made of metal or rocks. If collecting firewood, use only dead and downed wood near your campsite.
Charcoal or wood fires are not allowed in the canyons of Cedar Mesa.
Can I ride my ATV or motorcycle in the monument?
Yes. The National Monument provides outstanding opportunities for motorized recreation.
All roads and trails that were open prior to the monument designation continue to be open to motorized use.
Can I ride my mountain bike in the monument?
Mountain biking is allowed on all designated motorized vehicle routes within the monument.
Can I bring my pet to the monument?
Pets are allowed in the monument, except in the Cedar Mesa canyons of Grand Gulch and its tributaries; Slickhorn Canyon; Point Lookout Canyon and their tributaries.
Keep pets on a leash. Leashes protect them from getting lost or encountering porcupines, mountain lions, or snakes.
Please keep pets away from cultural resources, such as rock art sites and ruins.
Carry water for your pet.
Can I ride my horse in the monument?
Stock use is allowed in the most of the monument, but commercial and private stock use requires a permit.
Advanced reservation permits for overnight use must be obtained from the BLM Monticello Field Office (435) 587-1510 at least three weeks in advance for private parties and by July of the previous year for commercial trips. Walk-In overnight permits are not available.
Where to Get Bears Ears National Monument Information
The Edge of the Cedars Museum is a visitor center for the Bears Ears National Monument. It also has the largest collection of Ancestral Puebloan pottery on display in the Four Corners Region, an authentic Puebloan village behind the museum, and special exhibits. The museum is located at 660 W 400 N in Blanding, Utah. Signs along Highway 191 in Blanding will guide you to the museum. Phone: 435-678-2238.
The Blanding Visitor Center is located at 12 North Grayson Parkway, in Blanding, Utah. Hours are 8 am – 6 pm, Monday – Saturday. The center is closed on Sundays. Phone: 435-678-3662.
Located at 216 S Main St, Monticello, UT. Hours: 10 am to 4 pm. Closed on Sunday. Phone: (435) 587-3401
The ranger station is located along Highway 261 about 4 miles (6.4 km) south of its intersection with Highway 95. From Blanding, drive west about 32 miles (51.4 km) to the right turn onto Highway 261, or if you are coming from the west, go about 3 miles east of the turnoff to Natural Bridges National Monument (UT 275). Rangers are available from 8 am to noon, every day from March 1 – June 15 and September 1 – October 31. Day, Week, and Annual Day Use Permits and Overnight Permits  for Cedar Mesa canyons are available there. The ranger station does not have a phone.
Monticello Field Office
365 North Main | Monticello, UT | 435-259-2100
Monticello Ranger District
432 E Center Street | Monticello, UT | 435-587-2041 or 435-259-7155
Your purchases and donations support education and research on the public lands of Southeastern Utah!